ShadeMaker 10 foot Square Atlas Umbrella
---
Brand: : ShadeMaker
Product Code: ATL-30S
Availability: In Stock
---
---
Making its debut, ShadeMaker ATLAS, complimenting the entire line of ShadeMaker umbrellas. The ATLAS is bold and beautiful, boasting canopy sizes of 10 foot octagon, 10x10 square, 11.5x11.5 square and 13 foot octagon. Designed for elegance as well as functionality. An ideal solution for most shade applications is the Atlas center post umbrella with a quick and effortless crank to open and close. This telescoping umbrella allows for unobstructed closure over tables and chairs with a few simple rotations of the removable crank handle. Manufactured from the finest aluminum alloys to ensure the strength, durability and integrity of each and every umbrella. Constructed with one piece aluminum pole, durable high performance hub and fittings. Sunbrella fabrics and O'bravia awning fabrics make this one of the best quality umbrellas in the industry. These commercial grade fabrics are easy care, stain and mildew resistant with wonderful rich color that will last through the years with proper care. Covers can also be made in Firesist flame retardant fabrics. Firesist satisfies most fire codes and commercial applications such as restaurants, shopping centers, and hotel lobbies.
If you do not see the color you are looking for, please call us 800-738-7229.
STRIPED FABRICS MUST BE ORDERED IN PAIRS, DUE TO CUTTING REQUIREMENTS
CUSTOM ORDER, PLEASE ALLOW 4 WEEKS TO MANUFACTURE. OUR 72 HOUR ORDER CANCELLATION POLICY APPLIES, AFTER 72 HOURS THE ORDER IS FINAL.
Features:
10 Square umbrella

Telescoping Mast

Quick and effortless crank lift system

Coverage 95 square feet
Modern Designed aluminum hub and fittings
Commercial grade canopy fasteners adding durability and design
Galvanized internal mast stem
Removable crank handle
Includes aluminum mast stem cover
Includes High Performance Protective Cover
Commercial awning and furniture grade fabrics - Sunbrella, Outdura, and O'Bravia

Available in Fire Retardant Fabrics - call for a price 800-738-7229
Finish: Silver Shadow and Shadow Graphite
Single wind vent
Commercial and residential uses

Minimum base weight 300 LBS




Umbrella Base (SOLD SEPARATELY)



All covers are made per order, please allow 4 weeks for fabrication. This is a custom umbrella and has a 72 hour cancellation policy. After 72 hour the order is final, no exchanges or returns.
Base Options:
Geomet Steel Base Weight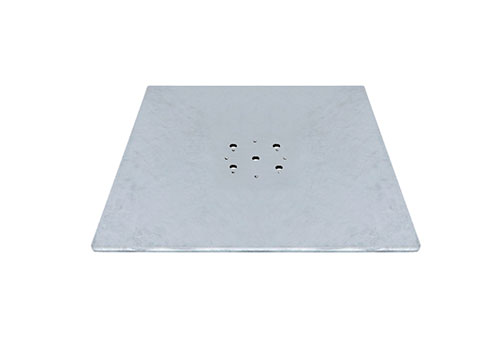 Titan Base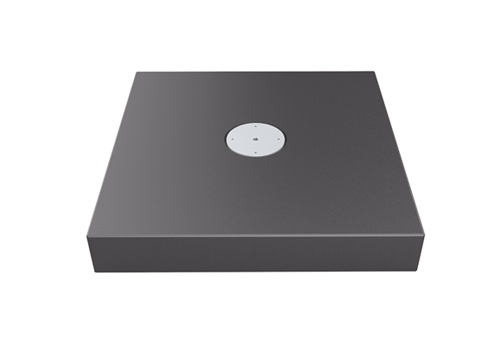 Infinity Base

Concrete Mount Kit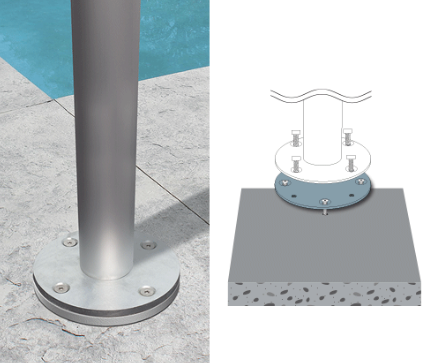 In-Ground Mount Kit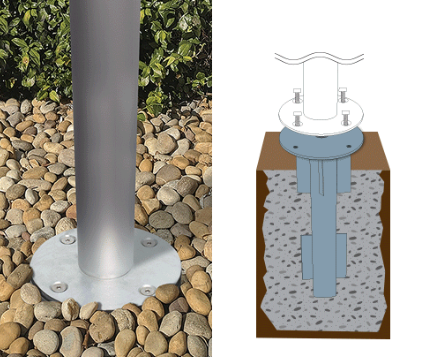 ATLAS SPECIFICATIONS ~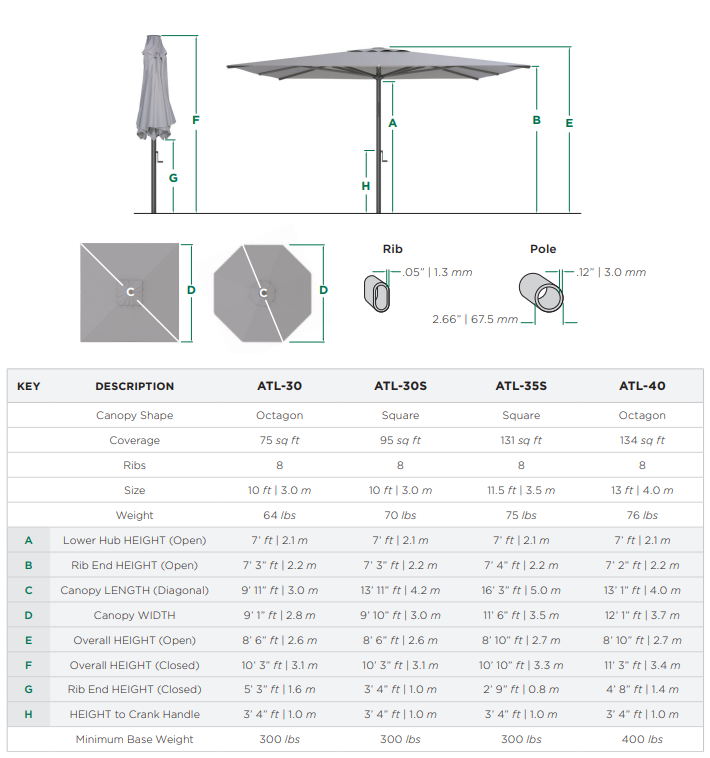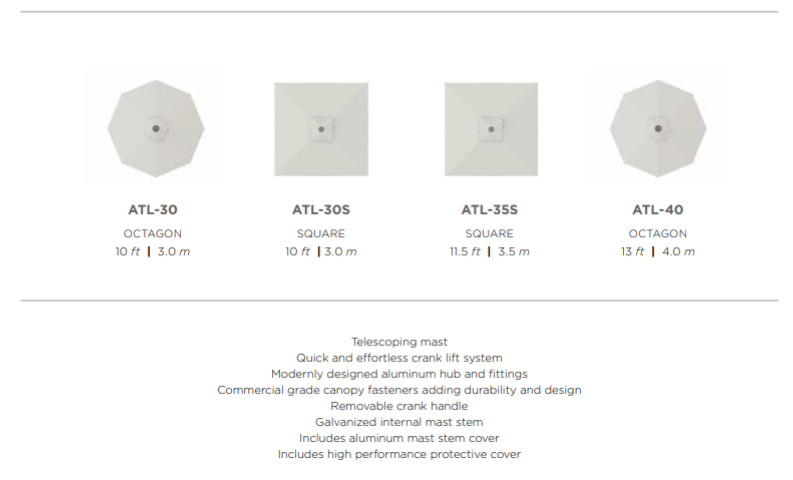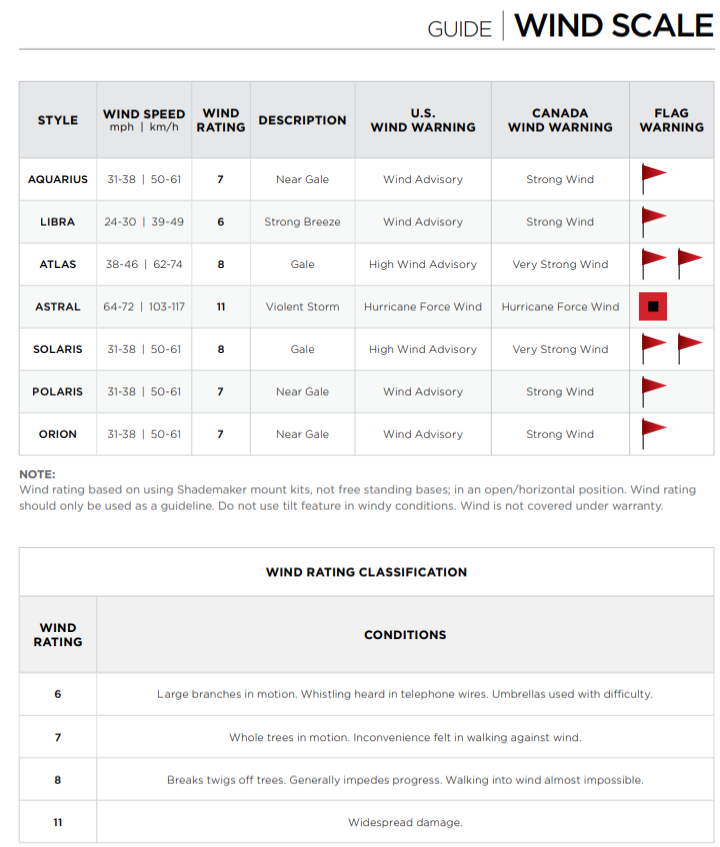 SPECIFICATIONS - CLICK ON TO OPEN

MANUALS- CLICK ON TO OPEN


DISCLAIMER OF WARRANTIES: Except as herein expressly set forth. This product is sold "as is" and "with all faults", and without and implied warranty of merchantability –which warranty is hereby expressly excluded. This product is sold without any implied warranty of fitness foe a particular purpose – which warranty is hereby expressly excluded. Moreover, there are no warranties which extend beyond the description on the face hereof.

warranty
Shademaker manufacturers all its shade styles from the finest aluminum alloys to ensure the strength, durability, and integrity of each and every style. We pride ourselves as a totally vertical operation. This means that we manufacture and produce over 90% of the components used in our products from the raw state. We can monitor every stage of the manufacturing process and maintain a consistent level of quality.
Our only business and focus is shade and shade type products. Our goal is that each and every Shademaker style will exceed your
expectations at a competitive price that will make you smile.
NOTE: Wind damage is not covered under any manufacturer's warranty.
Replacement parts can be ordered under warranty at no charge, if found that the damage is a manufacture defect.
Libra, Atlas, Astral, Solaris, Polaris, Orion
10 Year Limited Warranty
• Mast, boom, head fitting, elbow, center post/side post, arms, ribs, upper and lower hub, and stainless steel hardware.
5 Year Limited Warranty
• Frame finishes, including powder coated.
• Lift system components, including crank mechanism.
Titan, Infinity, Geomet Bases
10 Year Limited Warranty
• Galvanized frame
• Galvanized steel plates
5 Year Limited Warranty
• Powder coat finish
• Base lid
Athens, Aurora Bases
2 Year Limited Warranty
• Cast aluminum base
1 Year Limited Warranty
• Base wheels
• Stem
• Powder coat finish
External Stem, Mount Kits, Steel Base Weights, Steel Base, Monaco Base, Commercial Base, Add-on Weight, Protective Covers
1 Year Limited Warranty
• Stem, adapter plate and in-ground fitting
• Base wheels
• Powder coat finish
Fabric
10 Year Limited Warranty includes the Sunbrella awning & marine grade Fabric Collection. Visit www.sunbrella.com/warranty for more details. Note: Sunbrella Awning/Marine fabric is treated with a finish which gives the fabric its water repellency and a firmer hand which helps in the sewing and fabrication of the products. Mark-off/Crazing may appear as white scuff marks or thin white lines on the fabric which will normally diminish or go away with normal weathering and will not affect the overall performance of the product.
5 Year Limited Warranty applies to Glen Raven FIRESIST® and Sunbrella® furniture grade, Outdura® furniture grade and O'bravia® awning grade fabrics.
What Is NOT Covered: Failure caused by unreasonable or abusive use, or failure caused by neglect of reasonable and necessary care, and any modification to product are not covered by this warranty. We will only warranty products which are properly secured to an adequate base or mounting system and adhere to our required base weight minimums. Additionally, acts of nature (including but not limited to wind, hurricanes, tornadoes, and storms) are not covered by this warranty. This warranty covers return freight of any warranted product only for the first year. This warranty gives you specific legal rights and you may have other rights which vary from state to state. If the powder coat finish flakes, bubbles, peels or loses color; Shademaker will re-finish or replace the defective bases at its discretion.
Closeout and promotional items sold by the dealer as is are not covered by this warranty. Labor charges are not covered under this limited warranty. Normal wear and tear is not covered under this limited warranty.
Wind Damage: Shademaker highly recommends that no umbrella, regardless of size or weight, ever be left unattended in the open position. In windy conditions, it is further recommended that umbrellas be closed, removed from their base, and stored or laid horizontally. This will reduce the risk of personal injury, damage to your umbrella, furniture, and other belongings or property. To ensure stability of your umbrella, please observe proper placement, and use sufficient base weight. This price list contains minimum recommendations for necessary weight for each style. Keep umbrella properly secured to umbrella base at all times. Thoroughly read and follow all provided instruction manuals.
Sufficient base weight must be used to secure umbrellas at all times. Please see individual product pages for recommended minimum weight requirements for free-standing applications. Using a Shademaker mount kit is always the preferred method of securing your umbrella above all other methods. We recommend a licensed contractor to secure your Shademaker umbrellas.
Caution: Seaside and indoor pool use, salt & chlorides can accumulate on the powder coat finish, leading to finish failure. Failure or neglect to make needed cleanings may cause paint to blister, and such failure will void limited warranty.
Irregularities in Production Process: The possibility of "Irregularities" in the product surface may occur during the production process. However, these irregularities do not reduce the quality of the product. Shademaker monitors every stage of production to ensure a clean and consistent appearance on every part.
Rust: Rust is a natural part of the aging process of all steel based materials and is therefore NOT considered a defect. Steel plate bases are designed to require minimum maintenance. Bases should be kept clean. Do not let dirt build up on the bases. Never leave bases standing in water. To keep your bases looking their best, you may wish to store them when not in use for an extended period of time.
Tags: shademaker, 2