Frankford 100 LBS Galvanized Steel Plate Base
Price in reward points: 400
---
---
---
Frankford 100 pound Galvanized Steel Plate Commercial Umbrella Base with stainless steel stem.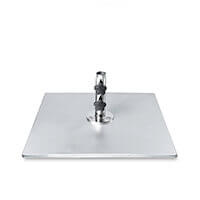 24G-SQ
weight: 100 lbs.
width: 24"
height: .5"










Able to stack 3 G-Plates of any corresponding shape to increase maximum weight and overall footprint.

MS-Matte Silver
Commercial and residential applications
24 inch square
100 pound base
Galvanized Steel
DISCLAIMER: Umbrellas must be secured equal to greater than the base options recommended in the category, and must be secured properly using the thumb screws or other hardware supplied with each base. Failure to properly secure umbrellas with the base options recommended, and with the supplied hardware will void the Frankford warranty. Furthermore, all umbrellas should always be closed and secured when not in use, and taken down when winds reach unsafe conditions.
Tags: lbs, square, commercial, umbrella, base, bases (black) accessories galtech silver