Treasure Garden 9' Auto Tilt Patio Umbrella - black/white stripe
---
---
---
Be a trend setter and awe the neighbors with this totally unique umbrella. This umbrella is made by Treasure Garden and features their patented Auto Tilt system. The auto tilt umbrella is easy to use and tilts effortlessly. Simply crank the handle, once fully opened, the umbrella will tilt. To erect the umbrella upright, simply crank the handle counter clockwise handle and the umbrella will straighten up. Smooth operation and durable performance in one umbrella. The black frame finish is accented with a customized black with black and white Sunbrella and Outdura combination.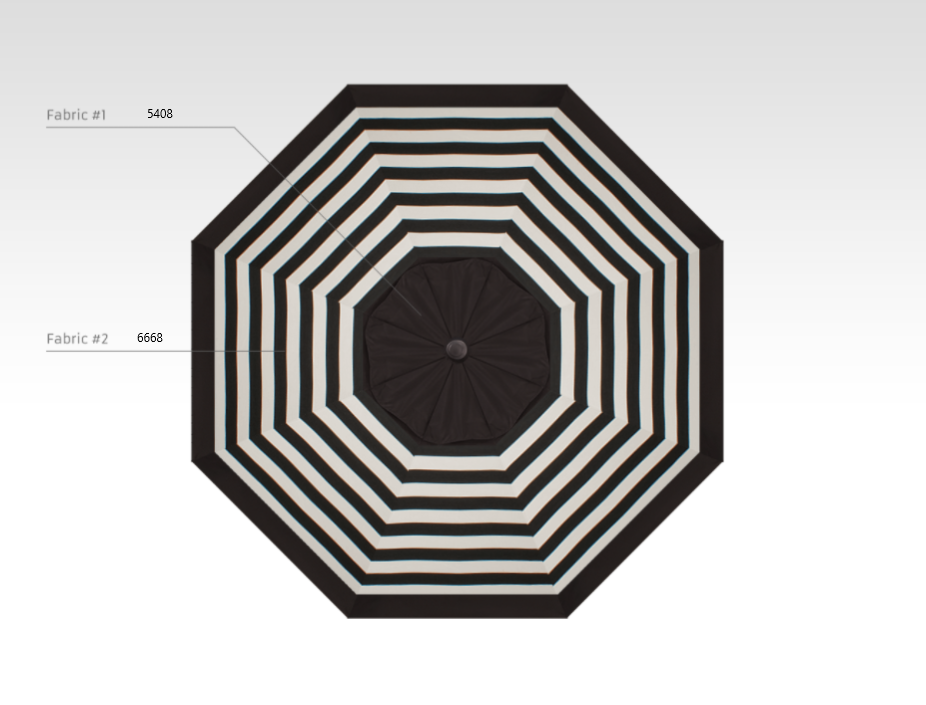 Features:
Strong, durable, and sleek aluminum frame

Crank lift for smooth operation and easy adjustments.

100% Kevlar mesh lift cord for added strength and durability
Push button connection between poles
Crank to tilt umbrella
Treasure Garden's limited 2 year warranty on the frame*
9' diameter canopy ideal for shade covers for up to 54" table
9' diameter canopy cover options includes Sunbrella and O'Bravia combination
Base sold separately Note: 50 - 80 lb bases are recommended for this style umbrella
Specifications:
Auto tilt umbrella
2 Sections connected with a push button connection
Octagonal - 8 Ribs
105.5" High, 78" Head Clearance
1 1/2" Diameter Single Pole
32" bottom pole
COVERS
Covers are warranted against loss of color or strength under normal exposure conditions for the following durations:
Sunbrella and Outdura - 5 years
FRAME
2 year Treasure Garden warranty
*Warranty is covered by Treasure Garden's limited manufacturer's warranty. Not warrantied if used in a commercial setting.
Tags: round, deluxe, auto, tilt, patio, umbrella, umbrellas market $151, $325 galtech treasure, garden