Treasure Garden Wood Mount Kit
Cantilever Wood Mount kit opens up a world of opportunities for large shade. Imagine a cantilever umbrella without a large, bulky fill-able base. Just a clean application for you to enjoy.
DISCLAIMER:
THE AMK MOUNTING KIT SHOULD ONLY BE PROFESSIONALLY INSTALLED BY A
LICENSED CONTRACTOR DULY QUALIFIED TO PERFORM THE INSTALLATION.
TREASURE GARDEN® ASSUMES NO LIABILITY AND EXPRESSLY DISCLAIMS ANY
RESPONSIBILITY FOR INJURIES OR DAMAGES ARISING FROM OR RELATED TO
THE FAILURE OF BUYER TO HAVE THE AMK MOUNTING KIT INSTALLED BY A
LICENSED PROFESSIONAL CONTRACTOR. TREASURE GARDEN MAKES NO
WARRANTY EXCEPT AS EXPRESSLY STATED HEREIN, AND NO WARRANTY EXCEPT
TITLE TO MATERIALS FURNISHED SHALL BE IMPLIED WITH RESPECT TO THIS
ORDER.
DISCLAIMER OF WARRANTIES: EXCEPT AS HEREIN EXPRESSLY SET FORTH, THIS
PRODUCT IS SOLD "AS IS" AND "WITH ALL FAULTS", AND WITHOUT ANY
IMPLIED WARRANTY OF MERCHANTABILITY -- WHICH WARRANTY IS HEREBY
EXPRESSLY EXCLUDED. THIS PRODUCT IS SOLD WITHOUT ANY IMPLIED
WARRANTY OF FITNESS FOR A PARTICULAR PURPOSE -- WHICH WARRANTY IS
HEREBY EXPRESSLY EXCLUDED. MOREOVER, THERE ARE NO WARRANTIES
WHICH EXTEND BEYOND THE DESCRIPTION ON THE FACE HEREOF."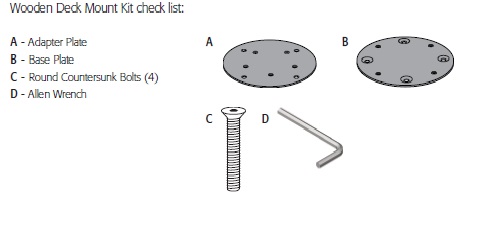 Tags: treasure, garden, concrete, mount, kit, bases, accessories